WASHINGTON – President Joe Biden and Vice President Kamala Harris have been sworn in at the U.S. Capitol for their historic inauguration Wednesday, flanked by a cadre of former presidents, including George W. Bush, Barack Obama and Bill Clinton.
Biden became the nation's 46th president while Harris blazed a new path for women and minorities. She's the first female, Black and Asian vice president in the history of the country. You can watch live coverage of Inauguration Day 2021 from NewsNOW from FOXthroughout the day in the video player above.
Watch President Joe Biden's inauguration speech
Watch President Joe Biden's inauguration speech that he delivered after he was sworn-in on Capitol Hill on Wednesday, Jan. 20, 2021.
Get live coverage of Inauguration Day 2021 below. Mobile users, click here.
Watch President Joe Biden's swearing-in
Watch President Joe Biden's swearing-in on Capitol Hill on Wednesday, Jan. 20, 2021.
Biden took the stage for his inaugural address around noon Wednesday. In his first remarks as president, he said his swearing-in marks a day of "history and hope" and that the country has "learned again that democracy is precious."
Biden called on Americans to overcome their divisions, declaring in his first address in office that "without unity, there is no peace." He referred to America's political climate as an "uncivil war," and called for the end of divisions like city vs. rural and conservative vs. liberal.
Biden also pledged that he would be honest with the country as it continues to confront difficulties, saying that leaders have an obligation "to defend the truth and defeat the lies."
He asked even those who did not vote for him to give him a chance. He said, "Hear me out as we move forward."
As he did frequently during the campaign, Biden pledged that he will be a "president for all Americans" and will "fight as hard for those who did not support me as for those who did."
He added, "We must end this uncivil war that pits red against blue."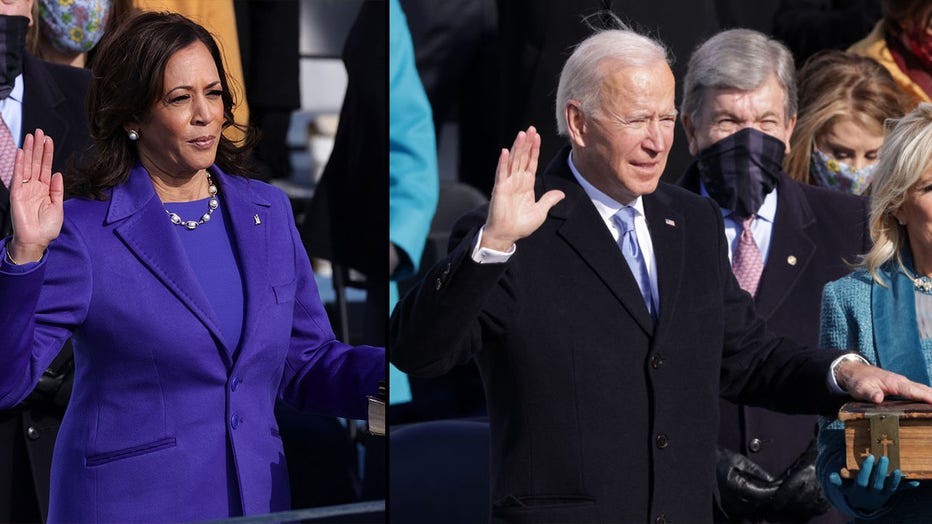 The Inauguration of Joe Biden and Kamala Harris
The official swearing-in ceremony for President Joe Biden has concluded, but more events are planned throughout the day.
Later on Wednesday, Biden and Vice President Kamala Harris will complete the traditional "Pass in Review" inspection of troops from all service branches, a ritual that symbolizes the peaceful transfer of power to a new Commander in Chief.
Biden and first lady Jill Biden, along with Harris and second gentleman Douglas Emhoff, will later visit Arlington National Cemetery to lay a wreath at the Tomb of the Unknown Soldier. They will be joined there by former presidents and first ladies Barack and Michelle Obama, George W. and Laura Bush, and Bill and Hillary Clinton.
A presidential escort will then lead Biden and Harris to the White House, followed by a virtual parade that will be televised.
There will be no inaugural ball Wednesday night for Biden, Harris and their spouses to dance the night away. Rather, a prime-time special will be televised featuring remarks from them both, as well as several musical performances.
"Celebrating America," hosted by actor Tom Hanks, will air and stream live on multiple channels including NewsNOW from FOX. Performances by Demi Lovato, Justin Timberlake, Ant Clemons and Jon Bon Jovi are planned.
RELATED: Biden making history as the country's second Catholic president
Watch Vice President Kamala Harris' swearing-in
Watch Vice President Kamala Harris' swearing-in on Capitol Hill on Wednesday, Jan. 20, 2021.
Biden took the oath of office, administered by Chief Justice John Roberts, using a Bible that has been in his family since 1893. According to the Associated Press, it's the same five-inch thick Bible he used during his vice-presidential inaugurations in 2009 and 2013.
Biden's late son, Beau Biden, used the same Bible when he was sworn in as Delaware's attorney general.
Associate Justice Sonia Sotomayor, the High Court's first Latina justice, swore in Harris.
Biden was sworn in at perhaps the most difficult starting point for a president since Franklin Roosevelt began his first term by assuring a nation scarred by the Great Depression that "we have nothing to fear but fear itself."
The U.S. Secret Service tightened security in and around the Capitol a week early in preparation.
RELATED: Washington, D.C. on lockdown, on edge with unmatched security for Inauguration Day 2021
The city center was essentially on lockdown with streets blocked, high fencing installed and tens of thousands of National Guard and other law enforcement officers stationed around the area. About 25,000 members of the National Guard streamed into Washington from across the country — at least two-and-a-half times the number for previous inaugurals.
The heightened security came with a fear that has gripped Washington since the deadly Jan. 6 insurrection at the U.S. Capitol by pro-Trump rioters. Five people died, including a Capitol Police officer.
In his final act, former President Donald Trump declined to attend Biden's inauguration and instead gave his farewell address at Joint Base Andrews in Maryland before departing to Florida.
He became the first president to not attend his successor's inauguration in more than a century. But former vice president Mike Pence and other former presidents upheld tradition and joined the new administration at the Capitol.
RELATED: 'It's been a great honor': Trump departs White House in final hours of presidency
Trump departed from Washington Wednesday morning in a grand airbase ceremony that he helped plan himself. Pence did not attend Trump's departure ceremony.
This story was reported from Detroit and Atlanta. The Associated Press contributed.